Just a reminder spring photos with Prater Studios will be Wednesday March 22nd. Order forms are available online.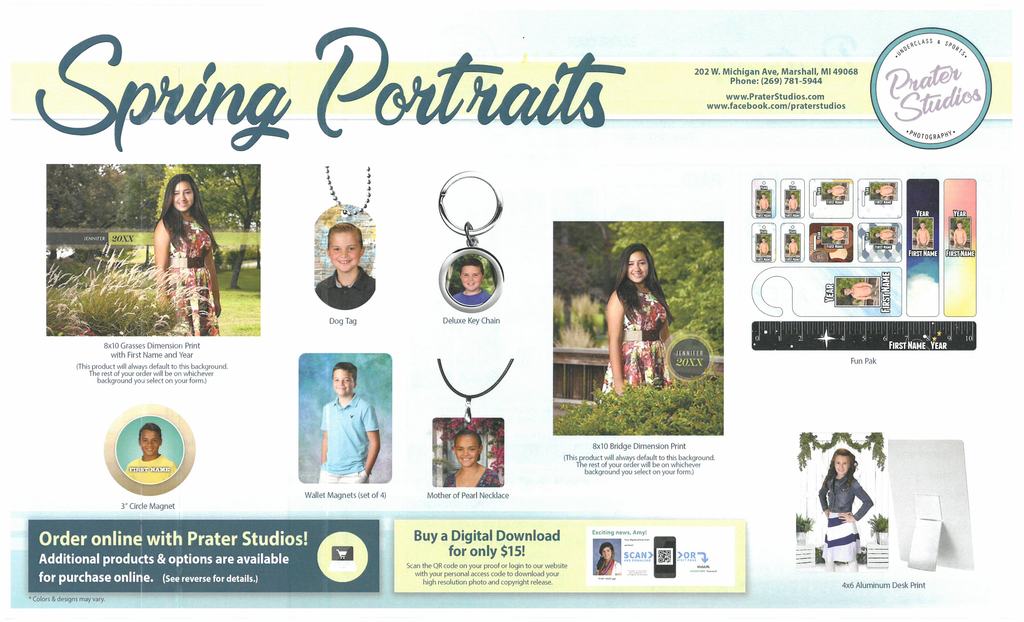 Just a reminder spring photos with Prater Studios will be Wednesday March 22nd. Order forms are available online.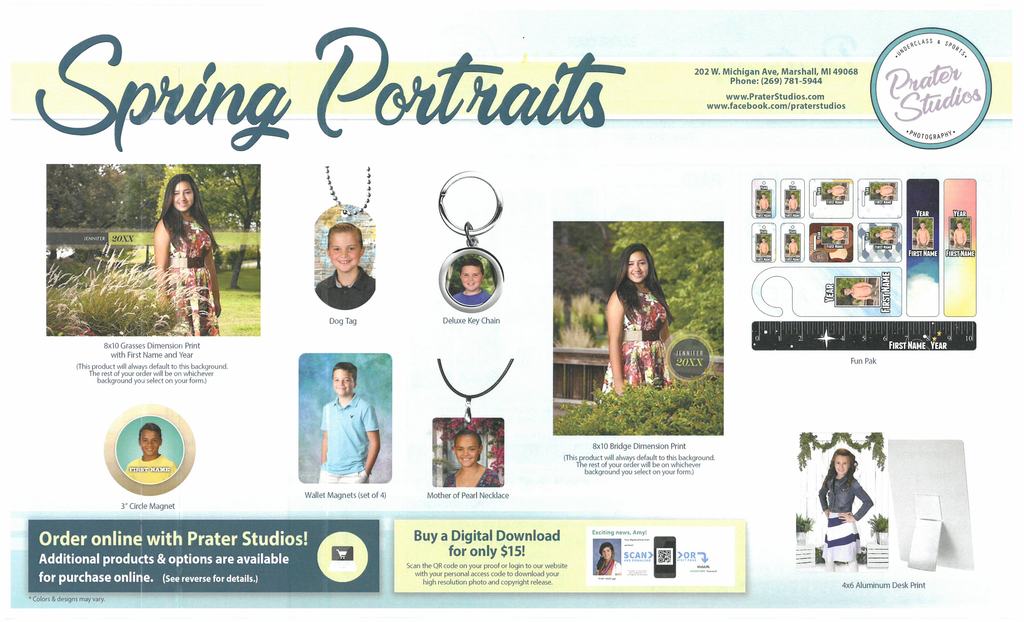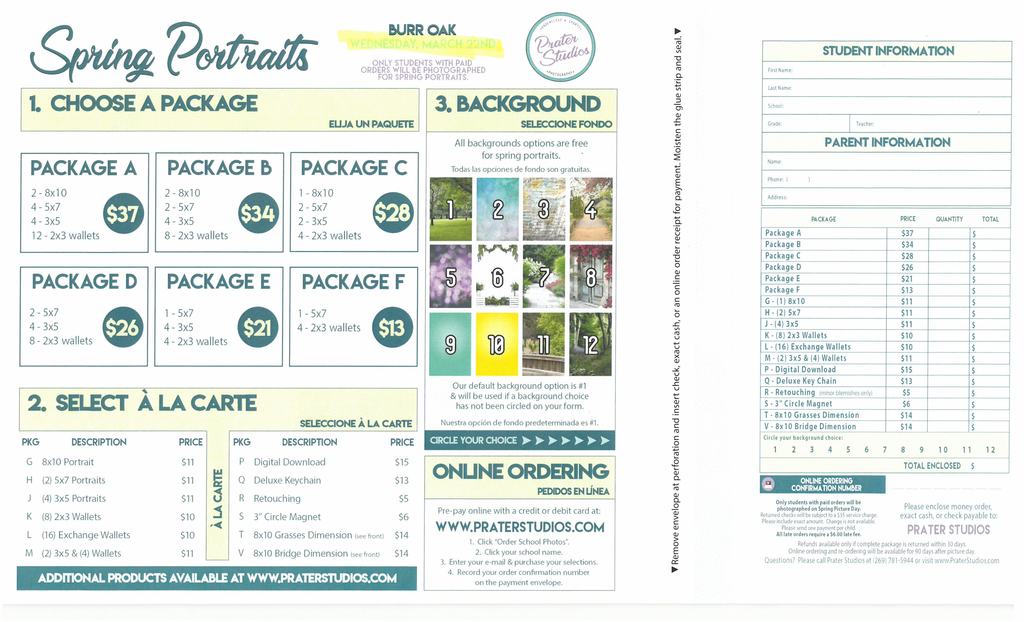 PUBLIC NOTICE NOTICE OF PUBLIC HEARING A Public Hearing is scheduled for: Monday, April 10, 2023 11:00 a.m. St. Joseph County Intermediate School District 62445 Shimmel Road, Centreville, Michigan Purpose of Hearing: To discuss the Countywide Labor Day Waiver Request to allow all constituent districts in St. Joseph County ISD to begin school prior to Labor Day beginning with the 2023-24 school year. A representative of the Michigan Department of Education will join the hearing remotely via conference call. This hearing will include time for public comment and discussion.

Burr Oak Community Schools will be closed today, Friday, March 10, 2023 due to road conditions.

Due to expected weather conditions this afternoon, Burr Oak Community Schools will be closed today, Friday March third.

Notice of Special Board Meeting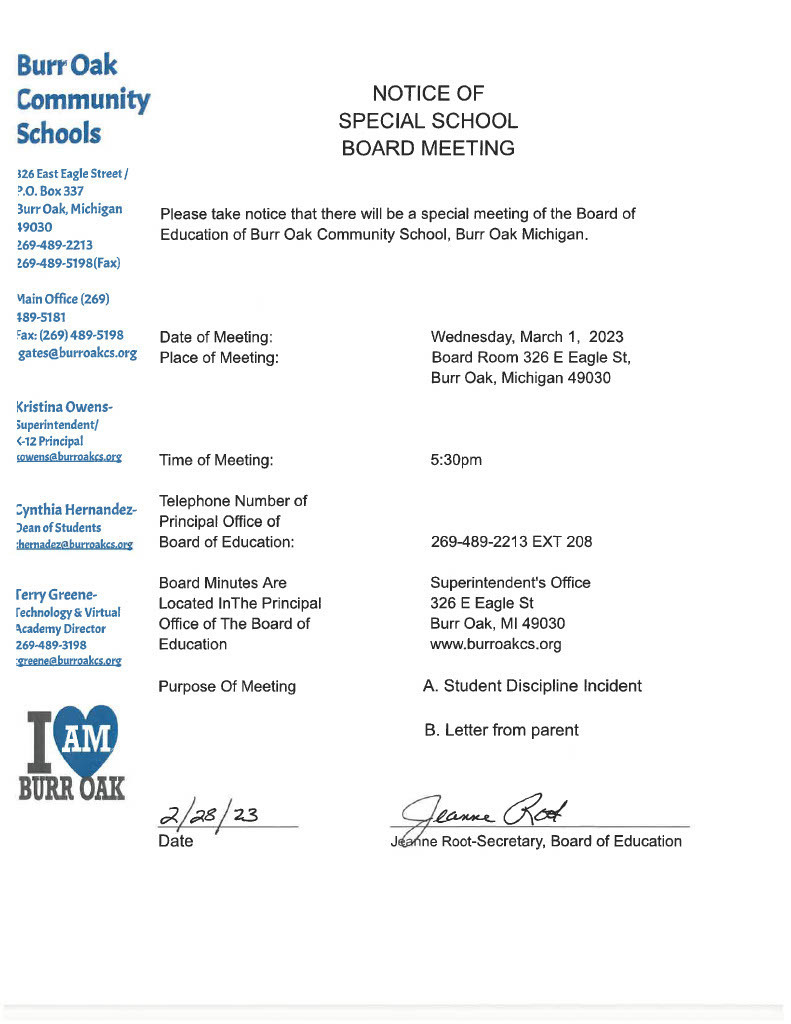 Due to a lack of a quorum, the Burr Oak Board of Education work session scheduled for this evening, 2/27/2023 @7pm has been cancelled.

Due to expected inclement weather, Burr Oak Community Schools will be closed today.

Due to expected inclement weather, Burr Oak Community Schools will be closed today.

The junior high game scheduled for tonight at Litchfield has been canceled. (2/8/23)

Alert: Our school phones are currently down. Please direct message using Facebook messenger if needed.

NOTICE OF SPECIAL SCHOOL BOARD MEETING Please take notice that there will be a special meeting of the Board of Education of Burr Oak Community School, Burr Oak Michigan. Date of Meeting: Tuesday, February 7th, 2023 Place of Meeting: Board Room 326 E Eagle St, Burr Oak, Michigan 49030 Time of Meeting: 8:00pm Telephone Number of Principal Office of Board of Education: 269-489-2213 EXT 208 Board Minutes Are Superintendent's Office Located In the Principal 326 E Eagle St Office of The Board of Burr Oak, MI 49030 Education
www.burroakcs.org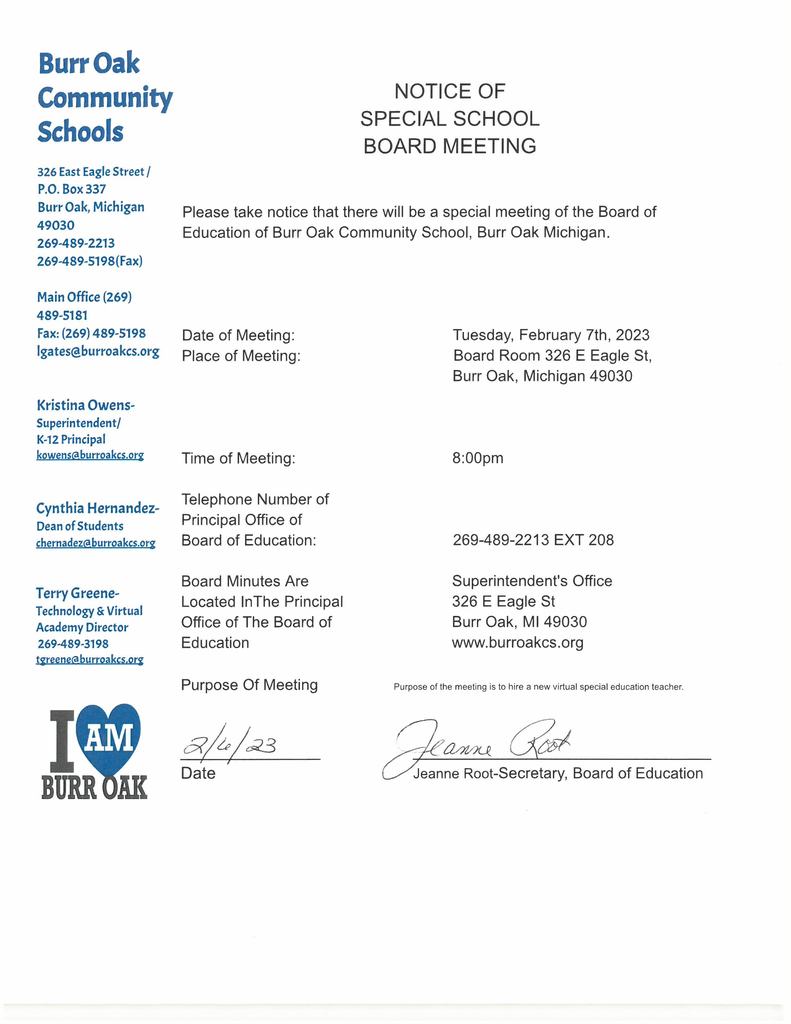 Congratulations to our 1st semester middle and high school honor roll students.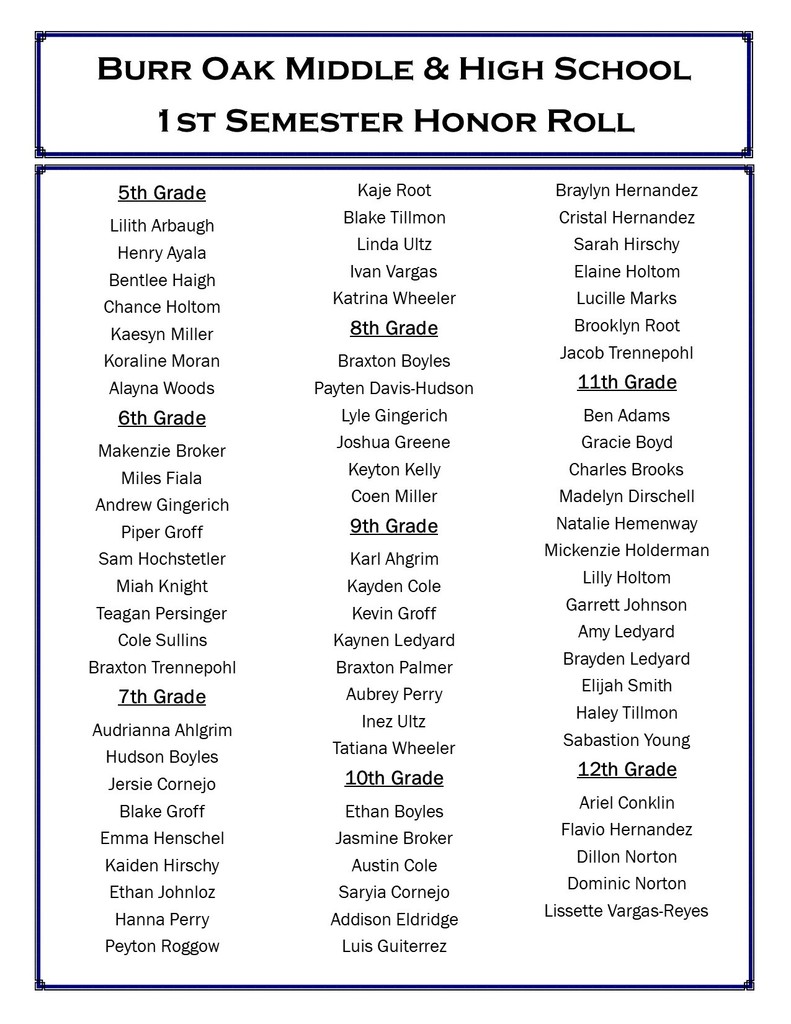 Burr Community Schools will be closed today, Thursday, January 26 due to poor road conditions.

Burr Oak Community Schools will be closed today due to inclement weather.

Burr Oak    Community Schools 326 East Eagle Street / P.O. Box 337 Burr Oak, Michigan 49030 269-489-2213 269-489-5198(Fax) Main Office (269) 489-5181 Fax: (269) 489-5198
lgates@burroakcs.org
Kristina Owens- Superintendent/  K-12 Principal
kowens@burroakcs.org
                Cynthia Hernandez- Dean of Students
chernadez@burroakcs.org
                 Terry Greene- Technology & Virtual Academy Director  269-489-3198
tgreene@burroakcs.org
 January 6, 2023  Dear Parents/Families of Burr Oak Community Schools: Here are some friendly reminders as we enter the second semester of the 22/23 school year.  Drop off, Pick up, Parking Lot Flow:  A.M. Drop off is by the victory bell.  P.M. For after school pick up, you have two options:  1) park in the street if you are waiting for a student to come out 2) park in a parking spot if you need to go into the office or wait by the doors for your student to come out When students can enter the building: School doors open for breakfast @ 7:20. Students can enter classrooms at 7:35.  Students need to be in their classroom by 7:45 or they will be marked tardy. Every fifth tardy will result in an after school detention. A tardy becomes an absence after 10 minutes.  Weather:  Please pay attention to area weather predictions Dress students appropriately (winter coats, snow pants, boots) because they will be going outside for lunch recess AND possibly for academic activities or extra outdoor time. Our cutoff temperature for sending kids outside is: 10 degrees (wind chill is taken into consideration) We will not go out in the rain. Illness/Medication: Keep home or will be sent home when: Temp is 100 degrees - can come back when they are fever free without fever reducing medication for 24 hours Vomit/Diarrhea - can come back after 24 hours without the aid of medicine.   If your student needs to have medication, it needs to come straight to the office in the original container; if your student rides the bus, the medication needs to be given to the bus driver upon entering the bus. Your student MUST have the medication form filled out to be kept on file (this is the law).  The school does not provide ANY medication for students (this includes Ibuprofen, Tylenol, etc.).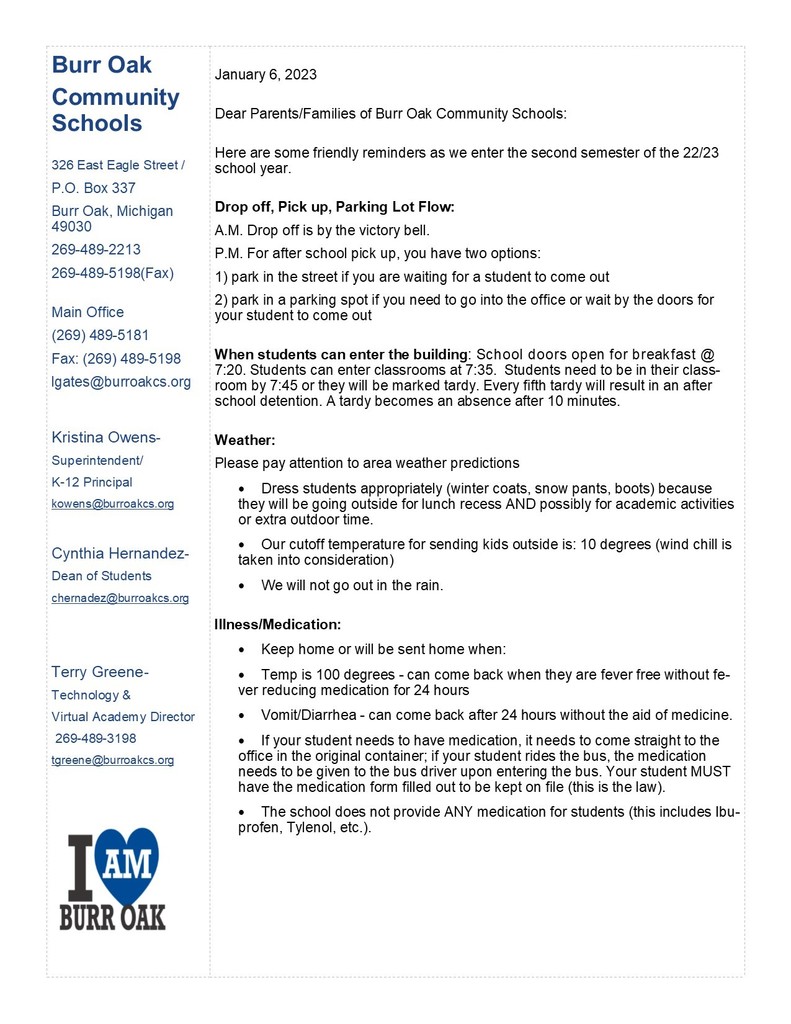 NEWS RELEASE January 6, 2023 Burr Oak Community Schools Board of Education Vacancy The Burr Oak School Board is accepting letters of interest and resumes from people living within the district to fill a school board vacancy. As required by School Code 380.61(4) board members will fill this vacancy by appointment on January 23, 2023 at the work session. This is a partial seat ending in 2026. Any registered voter who resides within the boundaries of the District of Burr Oak Schools is eligible to apply. If you are interested in applying, submit a letter of interest and/or a resume by 12 noon on Friday January 20, 2023 using one of the following methods: Due to the nature of the timeline, please email your letter of intent and/or resume to
kowens@burroakcs.org
or drop off at the main school office. Questions can be addressed by calling 269-489-2213. All resumes will be sent to the board of education in the afternoon of January 20, 2023.. Please plan on attending the Monday @7pm in case the board members have questions after reviewing your documents.

The fresh food imitative will be this Monday, December 5th from 3:00-5:00pm . This will be the final fresh food initiative at Burr Oak Community Schools.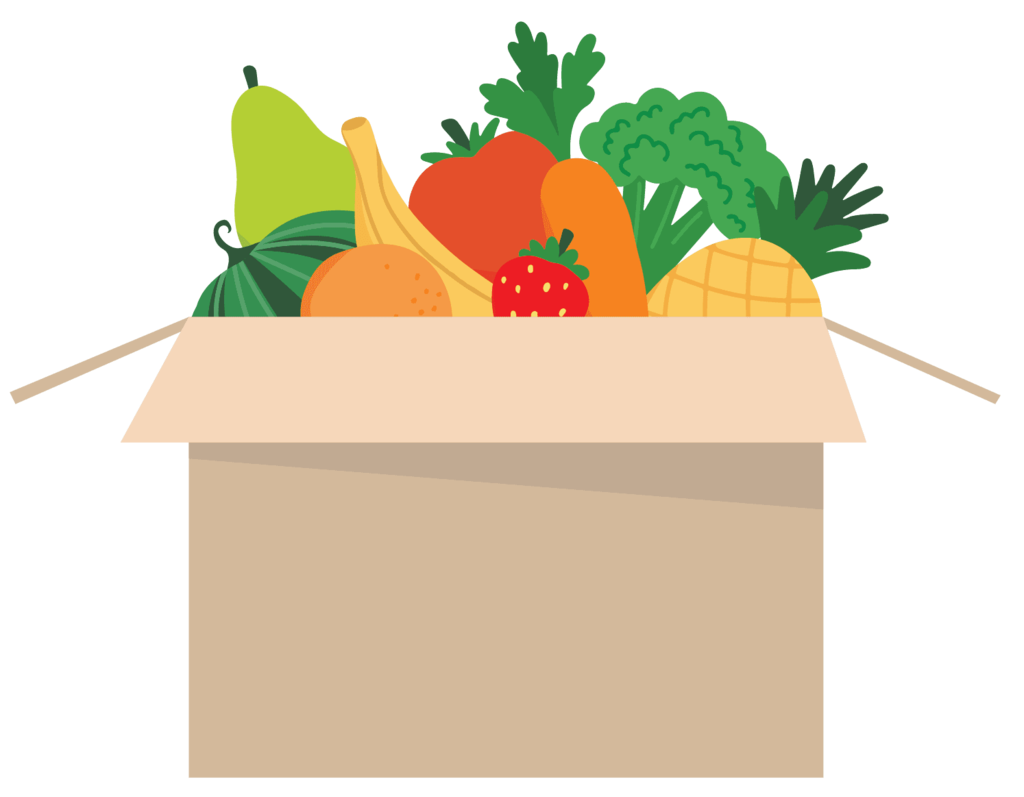 Here is the calendar for the December holiday dress up days.

The annual Burr Oak Thanksgiving Feast will be on Wednesday, November 23rd. We will start serving GSRP at 10:45 a.m. in the little gym. Kindergarten class will start at approximately 10:55 a.m. followed by rest of elementary at ten minute intervals. The fifth grade class will start at about 11:40 a.m. followed by the rest of middle school at ten minute intervals. The high school will start lunch about noon. Parents and community members are welcome to eat with their students.  We are asking for a $3 donation for each meal served to parents and community members. We hope you will join us in this Thanksgiving Feast because we have much to be thankful for.