Reminder MS and HS fall athletes: The athletic pre-season mandatory meeting is today at 5 pm in the gymnasium.
Ascension Michigan Student Help & Healing Center in Sturgis, can treat students ages 4-21. They focus on preventative medicine, however they do accept walk-in sick visits 7:30 to 4 pm Monday-Friday. The office accepts most insurances and will see students with no insurance or underinsured with no out of pocket costs to the student or student's family. They can be reached at: 269-659-6519 and are located at 1555 E. Chicago Rd.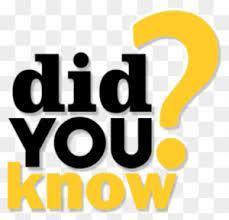 High School Student Kayaking Trip! On Wednesday, July 28, 2021 we have our first rewards day for high school students. This is for students who have completed at least 50% of their summer credit recovery courses by Monday, July 26 AND for those students who passed all of their classes for the 20/21 school year. There is no cost to the students! We will meet at Burr Oak High School at 8:30 a.m. Kayaking will begin at 9 a.m. and end by 11:30 a.m. We should be back to school by noon. If you plan on attending, you MUST fill out the form to reserve your spot no later than Monday, July 26. Late registrations will not be accepted. Form link:
https://bit.ly/BurrOakKayakTrip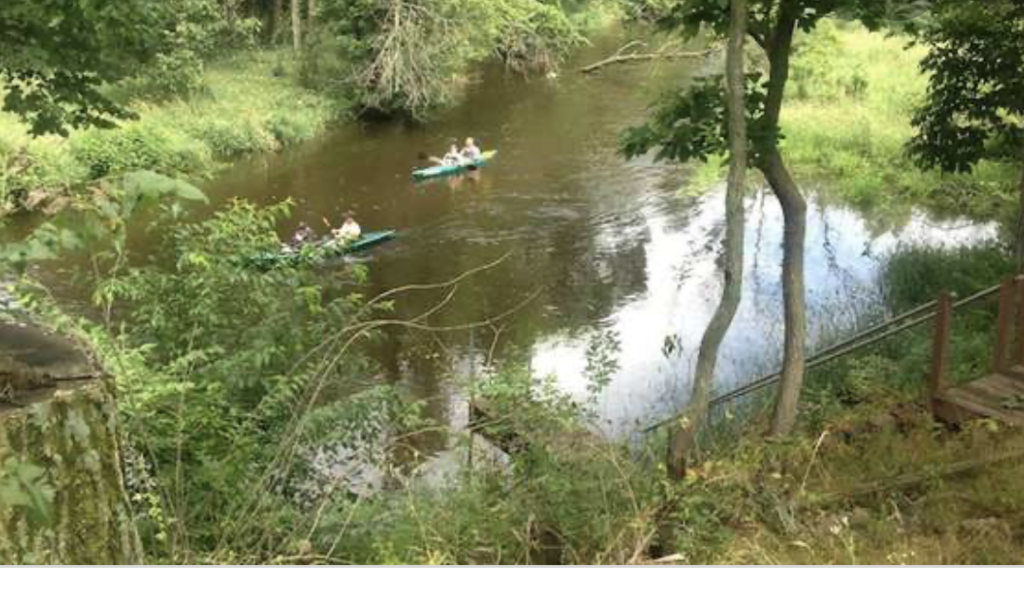 If you are available and love to golf, what a great opportunity to continue to help prevent suicide in our county. If you do not golf, see the other ways you can support the cause.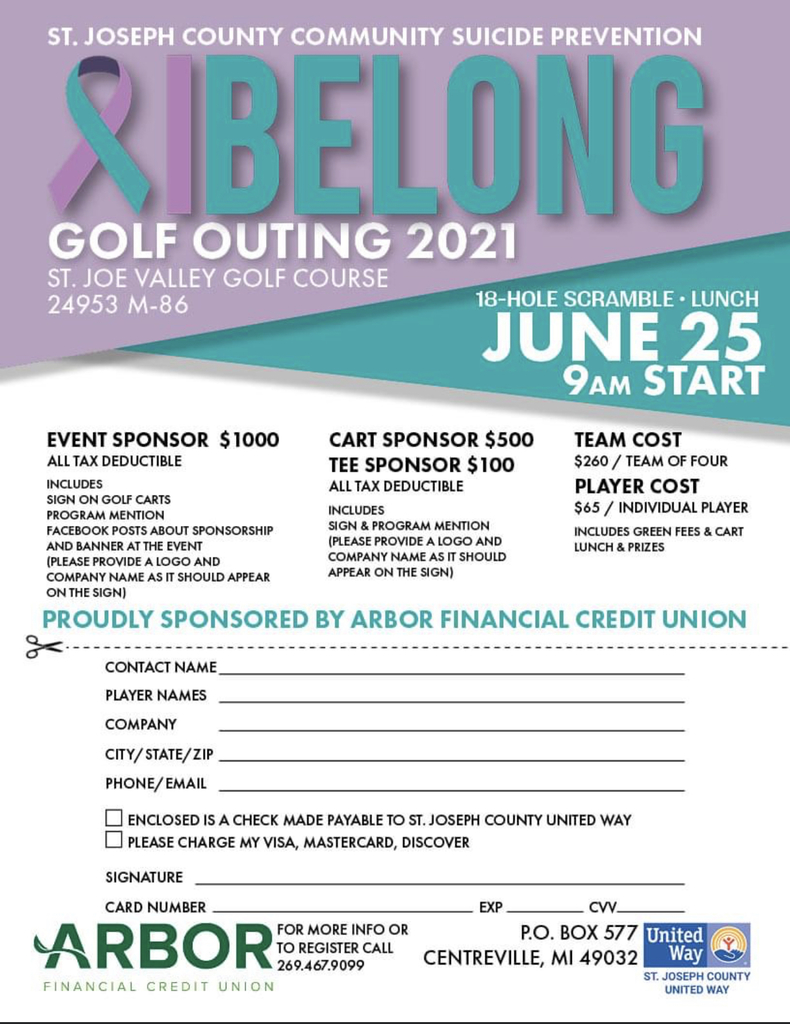 Parents: If you have not already completed the survey regarding your thoughts on our proposed daily schedule for the upcoming school year, please do so by going to
https://www.burroakcs.org/page/form
. Please provide detailed information relevant to your family situation and if you have questions please call 269-489-2213. There are many factors that go into this process and without details, it is hard to make decisions. If you are unable to access the survey, please feel free to call the school for information. Thank you!

To: Community members who live in the Burr Oak School District interested in serving on the school board Regarding: Open seat on the school board. Term ends in 2022 at which time, the appointee will need to apply to run in the local election. The school board will be interviewing interested candidates at the next school board work session which is to be held on July 26 , 2021 at 7p.m. Location: School board room in the old 2-story building. Please send your letter of interest and resume to
lgates@burroakcs.org
or
kowens@burroakcs.org
and we will forward to the board members. If you have any questions about the time commitment or what this service position requires, please call the school for information.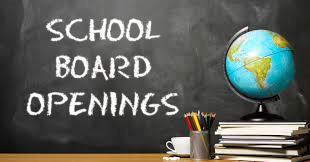 High School Credit Recovery (summer school) Update: Mrs. Smith began making calls Wednesday to parents and students regarding credit recovery classes and will continue today. Please call back if you received a message. She is scheduling Chromebook pick up times for this Friday (June 18) between 9 and 4. Classes will start Monday, June 21. - Classes will run for six weeks REWARDS for PROGRESS and COMPLETING courses - A kayak trip for those on target in classes and for students already in good standing will take place after July 13th and before August - A trip to Cedar Point will happen for students that complete their summer courses with a passing grade AND for students already in good standing (August/September) This is an opportunity to complete full course credits in 6-weeks! You should not pass this up.
Welcome Back Proud Michigan Educators Do you or someone you know have an expired teaching certificate? You may be eligible for recertification and return to teaching as part of the Welcome Back Proud Michigan Educator Campaign! The Welcome Back PME campaign allows you to seek immediate employment and partner with a district to reduce or eliminate the professional learning hours needed for recertification.   Educators that participate in the campaign may be eligible for immediate recertification or may be hired at full pay and benefits on a substitute teaching permit while some or all professional learning hours are provided by the district.  Learn more and check your eligibility at the Welcome Back PME webpage.
https://www.michigan.gov/mde/0,4615,7-140-5683_14795_83462-556448--,00.html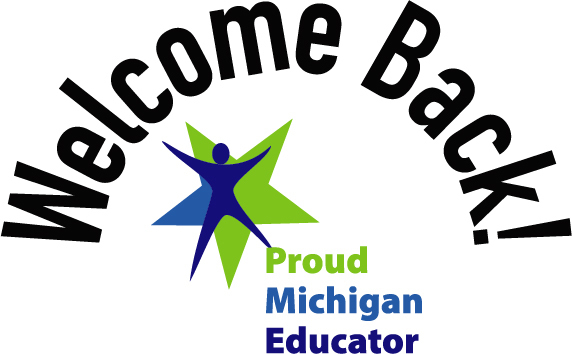 ATHLETES grades 6-12! If you have not gotten your physical, you have one more opportunity to do so but you need to contact the school by June 11 and give us which date would work best for you. These are FREE Option 1: July 17, 7:30am to noon Option 2: July 24, 7:30 am to noon You will be responsible for transportation to Revolution Health in Sturgis. Please call 269-489-2213 to secure your spot. Reminder: You are not allowed to practice until your physical is complete and your paperwork is turned in.

DISH has partnered with ClassTag to celebrate the invaluable work of teachers across America. We're honored to recognize Sara Zebolsky as a Hometown Hero for the incredible work that she does every day to make such a difference in our community. Thank you Sara for all that you do for your students and thank you to our parent that nominated her for this award!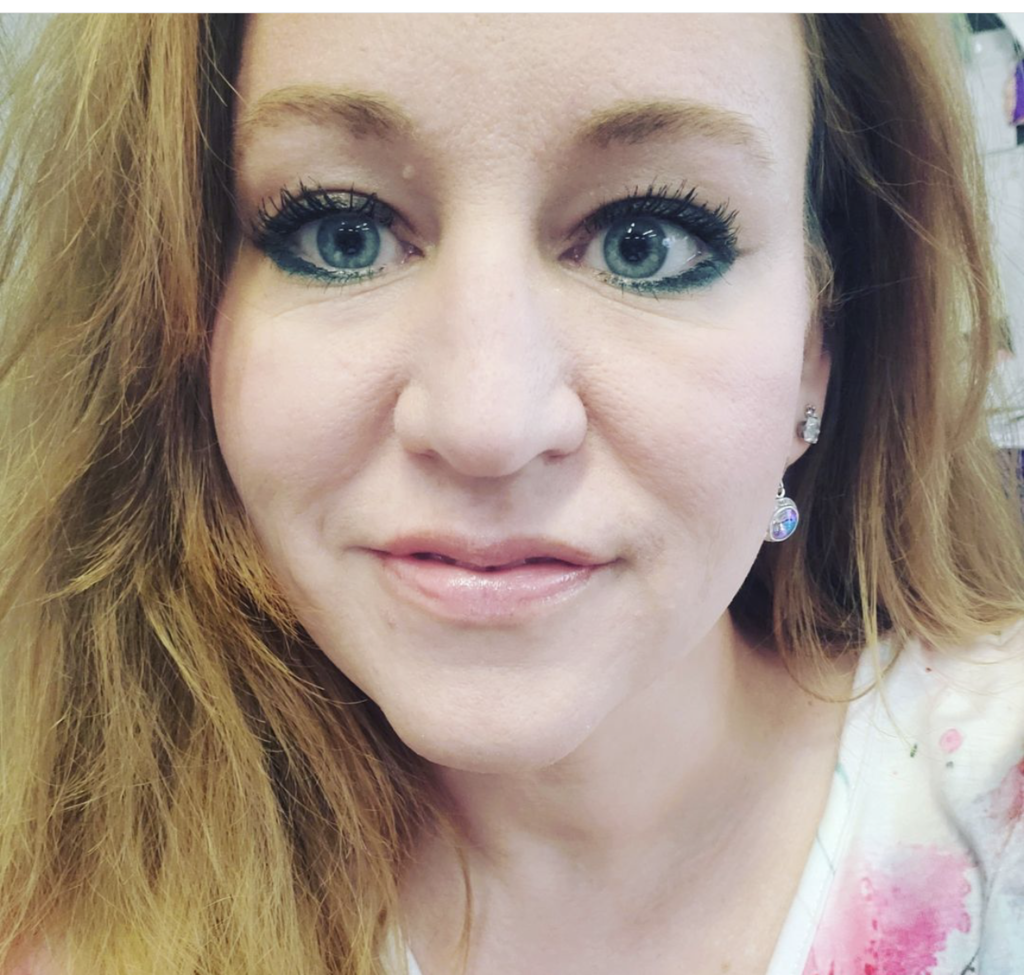 Chromebook Collection for grades 3 through 11 is Tuesday June 1. Please do not attempt to turn in your Chromebook before Tuesday, they will not be accepted. Chromebooks will be cataloged and inspected upon return. If your student is to attend summer school the Chromebook will be reissued for that purpose at a later date.
What's going on? Superintendent Owens from Burr Oak Comm. Schools and Superintendent Ebert from Sturgis Public Schools are pairing up for the celebrity DJ hour from 10am to 11am for the United Way Radiothon! When: The 18 hour event kicks off at 6 a.m. on Thursday, May 27th and goes until midnight Why: To raise money for St. Joseph County United Way What you can do: Call or go online to donate and remember every little bit helps This is a community effort at its best. Be sure to call and support!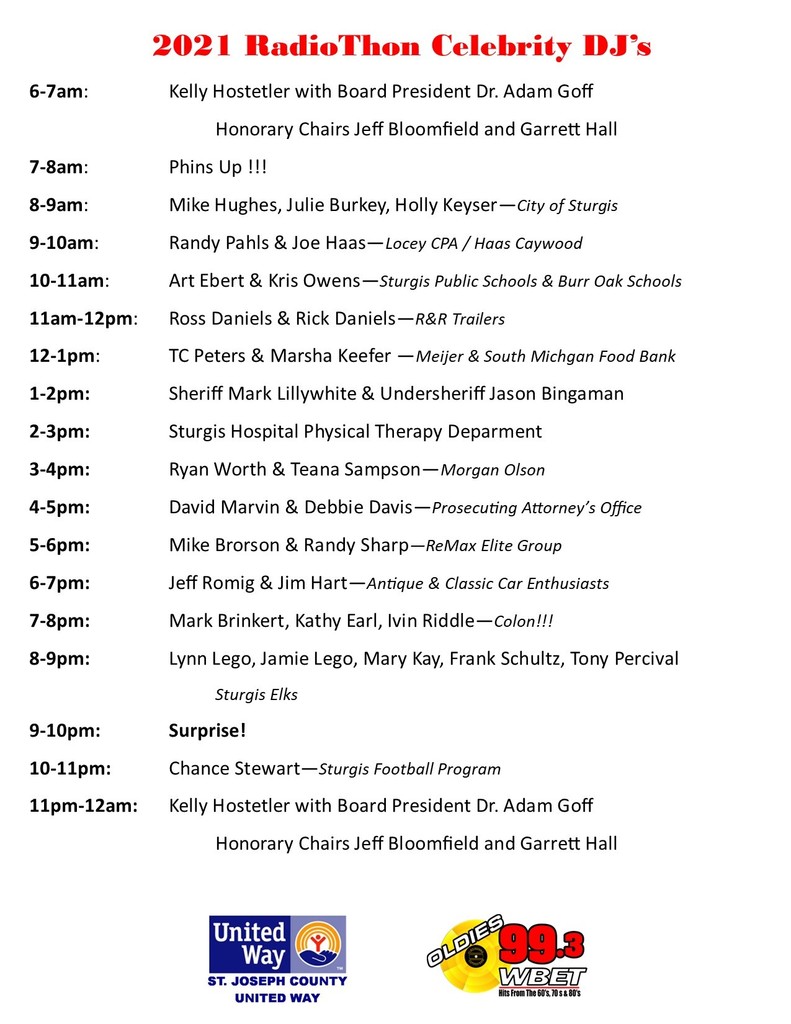 Burr Oak Community Schools is currently seeking to hire for the following positions. Part Time Special Education Teacher Elementary School Teacher High School English 2- Full Time Paraprofessionals
Reminder: Friday May 21 - school starts at 8 as usual, announcements in the courtyard at 8:30 with Minnesota Viking Tyler Conklin, and community clean up from 9-2 for middle school and high school. Grades 1-4 will release at noon. Buses will run at noon and 2.
Information and Reminders: Friday (May 21) is Community Clean Up Day. School still starts at 8 a.m. Clean up for MS and HS students will go from 9 to 2 p.m. Elementary grades will still be released at noon. Thank you to Tyler Conklin for supporting Burr Oak! He will be in town to take part in the community clean up and we hope to see many community members out and about doing their part. Friday (May 21): Seniors will need to be on campus by 7:50 for scheduled activities and graduation practice. Sunday: Baccalaureate is at 2 and graduation begins at 3. Graduation is invite only this year due to the limited number of people we can have in the gymnasium. Masks will be required by all attending. (As of today, schools still have different guidance than the general public regarding Covid prevention strategies and vaccinated individuals.)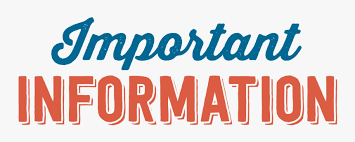 Reminder Parents: Tomorrow we kick off NWEA testing for students K-11. Please make sure your children are here and ready to test by 8 a.m and that they have their devices (Chromebook and iPads) with them and fully charged.
In case your MS child did not give you the letter shown below, we would like to remind you: May 14, 2021 Dear Parents/Guardians The afternoon enrichment activities have definitely provided an opportunity for students to get back some of the social interaction of school and I believe we all enjoyed the time. However, beginning Monday, May 24, we are going to change our focus to helping students make up/catch up on missing work before the end of the school year. Middle School teachers will be available to students Monday-Thursday until 2 o'clock for any students that need the extra help or time to complete their work. If you would like to have your student stay, please send a note, call, or email one of the middle school teachers so we know that your child is staying after school and we can keep track of the attendance. We care about the success of your child and feel that this way is the best to help them succeed. Please call the school if you have any questions. Thank you for your cooperation in this unconventional school year. Sincerely, Jan Summey
jsummey@burroakcs.org
Deb Rifenburgh
drifenburgh@burroakcs.org
Troy Sutton
tsutton@burroakcs.org
Karrie Randol
krandol@burrokcs.org
Please read the updated letter from Mrs. Owens.