Due to an incident that occurred in town, the school was told to go into a lockdown by St Joseph County Central Dispatch. We are very proud of our students and staff for promptly following lockdown guidelines. Everyone is safe and secure and we are back to a normal school day.
Game Day
Game Day
Game Day!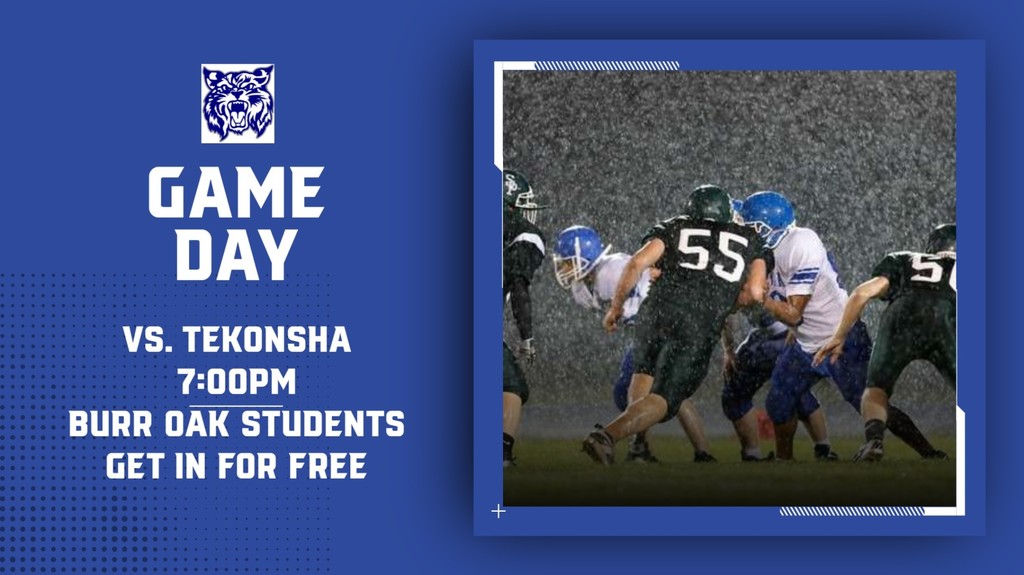 Due to poor field conditions, the Jr. High football game has been cancelled!
Two important dates to remember: October 12: Nathan Harmon will be at Burr Oak Community Schools with a powerful message for students - YOUR LIFE SPEAKS. This will be for students in grades 7-12. October 16: Community Conference for adults and students - see the flyer attached for detailed information. In addition to Nathan speaking, there will also be breakout sessions for people to attend.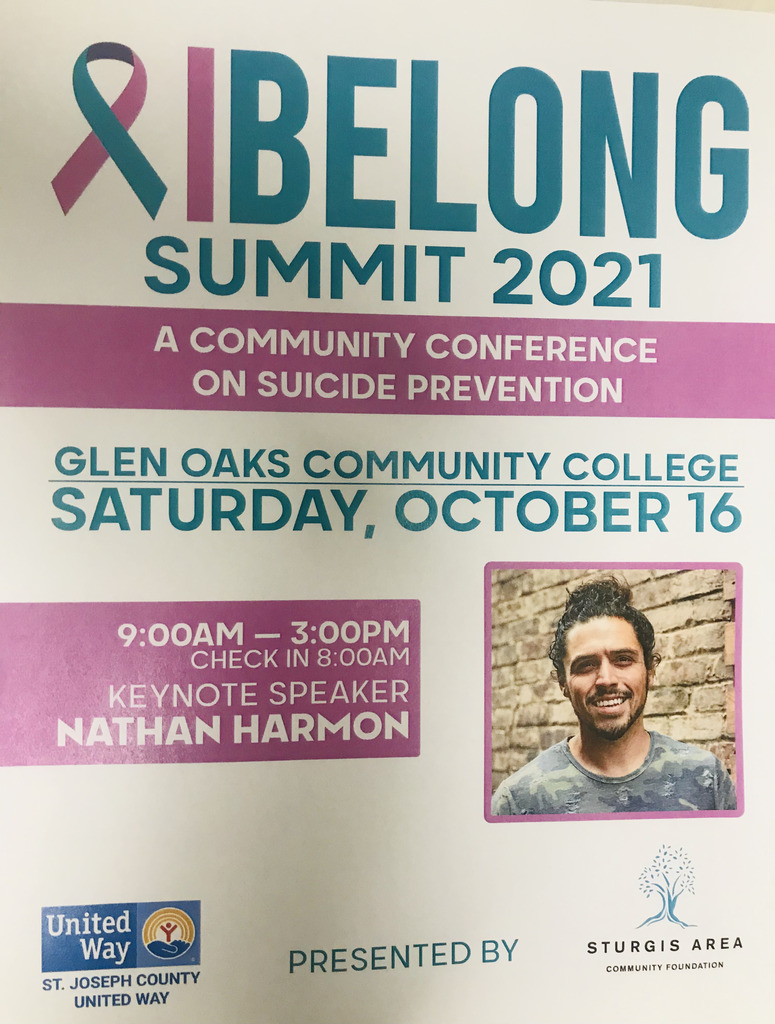 Your student should be bringing an order form school pictures today. If they did not receive one please have your student stop in the office and pick one up. School picture day is Thursday, October 7th.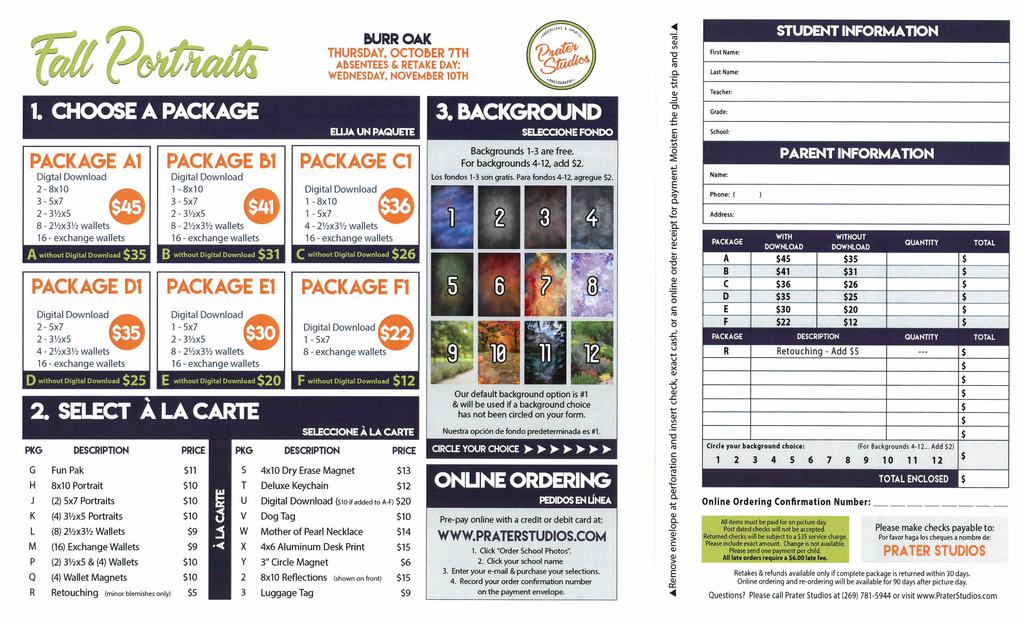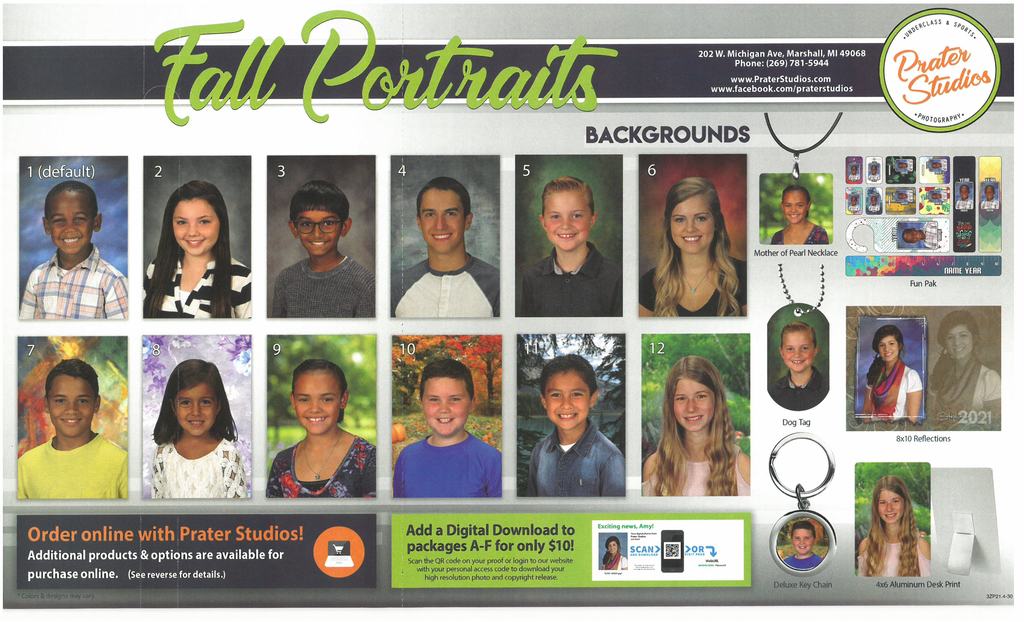 This week in sports!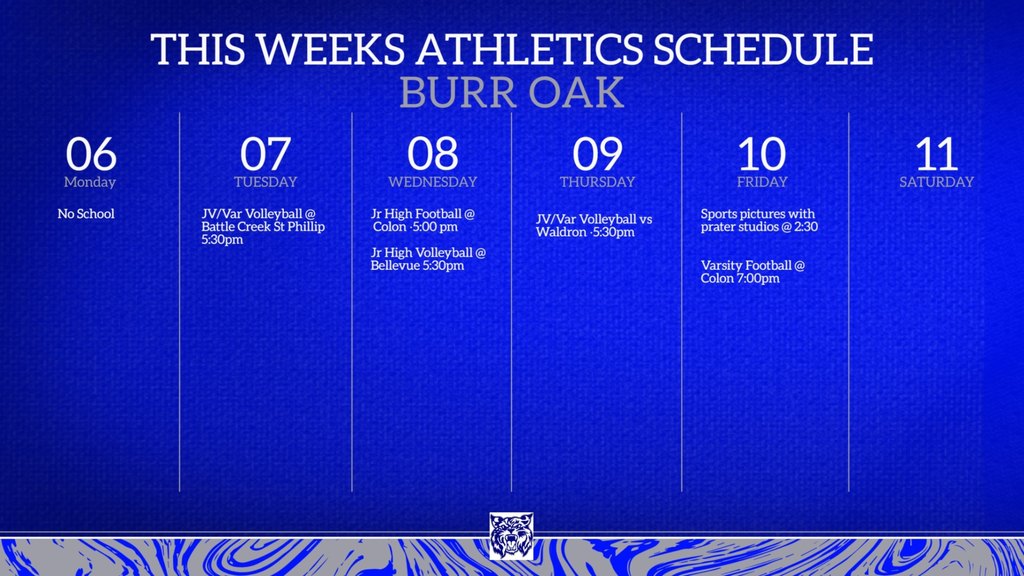 Just a reminder there is no school this Friday, September 3rd and no school again on Monday, September 6th.
The varsity volleyball game that was scheduled in Litchfield for this evening has been postponed. We will announce a new date when it has been rescheduled. The JV volleyball game is still being played this evening in Camden as scheduled.
Reminder: School open house tonight from 6 to 7. Come see our new maker space, your child's classrooms, and chat with the teachers. We have air conditioning!
Congrats to our Lady Bobcats on winning the Tekonsha Tournament!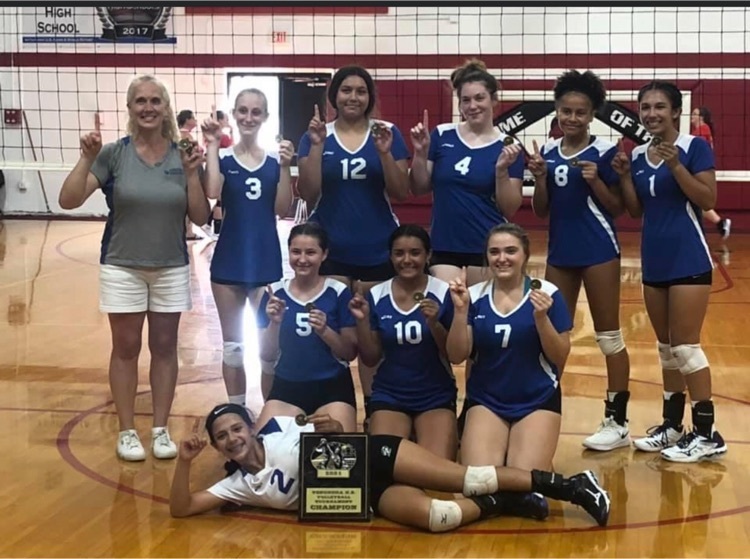 High school students only: remember to fill out the form if you plan on going on the kayaking trip this Wednesday. The link is
https://bit.ly/BurrOakKayakTrip
Reminder MS and HS fall athletes: The athletic pre-season mandatory meeting is today at 5 pm in the gymnasium.
Ascension Michigan Student Help & Healing Center in Sturgis, can treat students ages 4-21. They focus on preventative medicine, however they do accept walk-in sick visits 7:30 to 4 pm Monday-Friday. The office accepts most insurances and will see students with no insurance or underinsured with no out of pocket costs to the student or student's family. They can be reached at: 269-659-6519 and are located at 1555 E. Chicago Rd.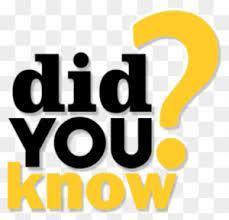 High School Student Kayaking Trip! On Wednesday, July 28, 2021 we have our first rewards day for high school students. This is for students who have completed at least 50% of their summer credit recovery courses by Monday, July 26 AND for those students who passed all of their classes for the 20/21 school year. There is no cost to the students! We will meet at Burr Oak High School at 8:30 a.m. Kayaking will begin at 9 a.m. and end by 11:30 a.m. We should be back to school by noon. If you plan on attending, you MUST fill out the form to reserve your spot no later than Monday, July 26. Late registrations will not be accepted. Form link:
https://bit.ly/BurrOakKayakTrip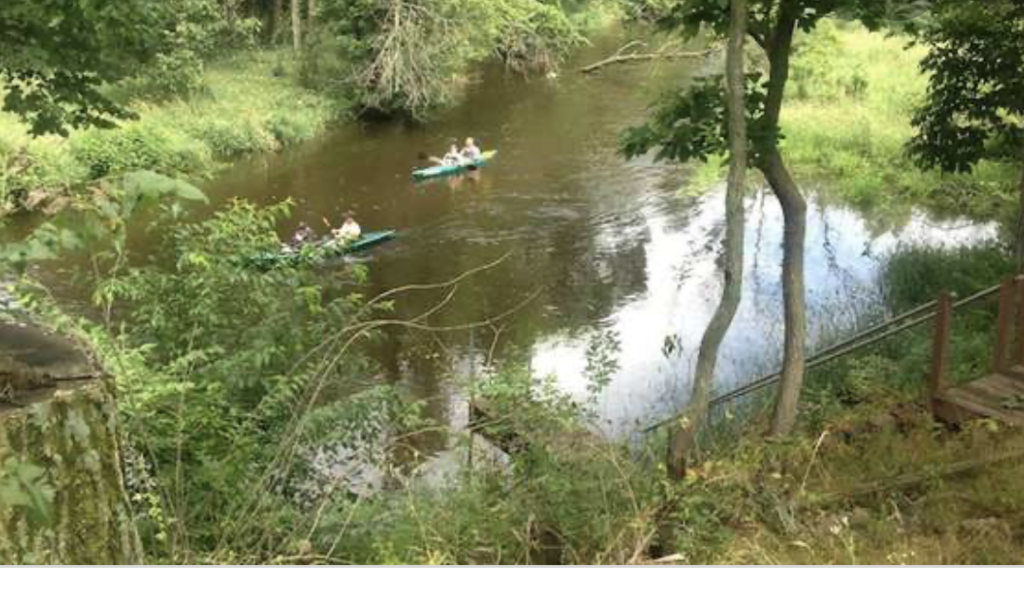 If you are available and love to golf, what a great opportunity to continue to help prevent suicide in our county. If you do not golf, see the other ways you can support the cause.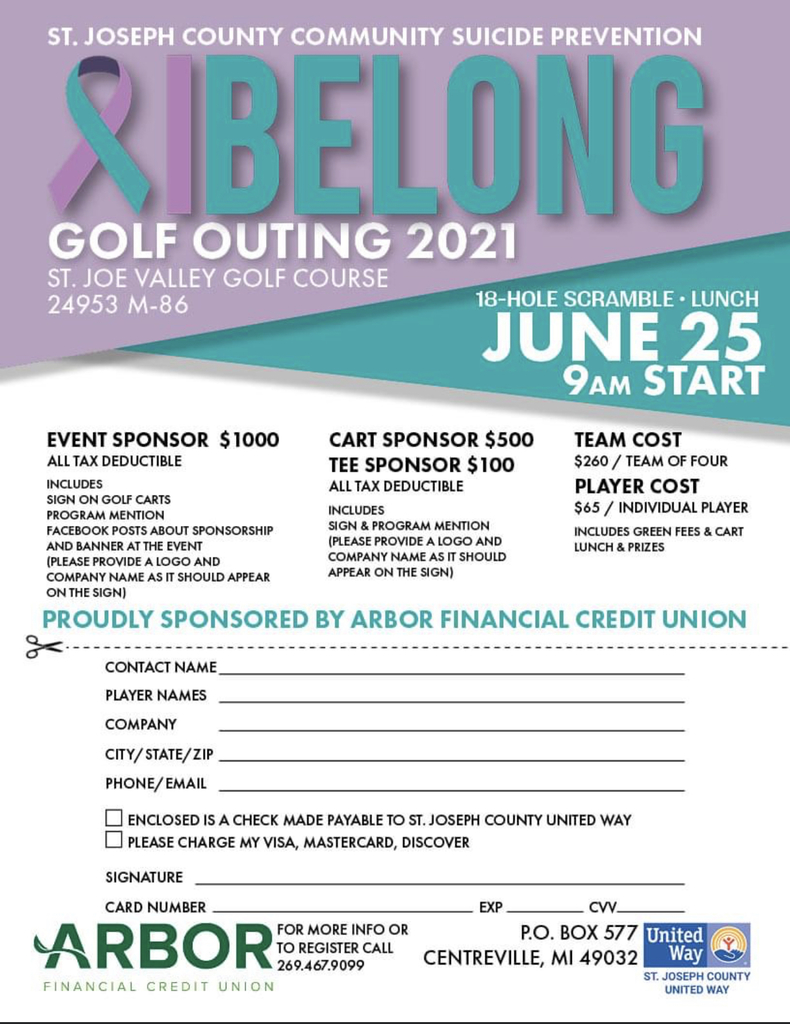 Parents: If you have not already completed the survey regarding your thoughts on our proposed daily schedule for the upcoming school year, please do so by going to
https://www.burroakcs.org/page/form
. Please provide detailed information relevant to your family situation and if you have questions please call 269-489-2213. There are many factors that go into this process and without details, it is hard to make decisions. If you are unable to access the survey, please feel free to call the school for information. Thank you!

To: Community members who live in the Burr Oak School District interested in serving on the school board Regarding: Open seat on the school board. Term ends in 2022 at which time, the appointee will need to apply to run in the local election. The school board will be interviewing interested candidates at the next school board work session which is to be held on July 26 , 2021 at 7p.m. Location: School board room in the old 2-story building. Please send your letter of interest and resume to
lgates@burroakcs.org
or
kowens@burroakcs.org
and we will forward to the board members. If you have any questions about the time commitment or what this service position requires, please call the school for information.