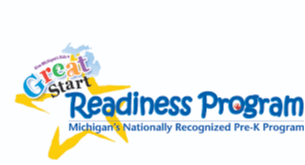 St. Joseph County ISD
GSRP Plan of Family Support during COVID-19 school closure
A survey was sent to families 4-3-2020. This SIMPLE SHORT survey was sent by each teacher to their classroom families. This survey asks basic questions about supplies at home - glue, scissors, paper, pencils, crayons, markers, playdough. An individual plan will be formed by each teacher to get any needed supplies to families from the classrooms with plans for deliveries on Mondays as needed.

The week of April 13th - Each lead teacher will call ALL families upon return from Spring Break. The phone calls will be scheduled via an electronic sign up - same like they might have done for conferences (Signup.com; sign up genius, etc). This electronic sign up was sent out to families by 4:00 pm on 4-3-2020. Talking points were created for this conversation and were emailed to teachers prior Spring Break. The conversation is encouraged to be fluid but cover all the talking points.

A family communication log has been created for teachers to log any family communication. We are requiring teaching teams to do an every-other-week phone call with emails, texts, etc in between those weeks. Teachers will log details of conversation including family needs and how they have given connections and resources to families to meet those needs. If a parent chooses not to participate in the virtual offerings, the teacher will document the date and time of the conversation.

Learning progress will also be documented in the family communication log and/or COR Advantage. Teachers will also log responses from families in relation to what suggested activities families have tried and how it went. They will then log what individual supports are needed for families based on that feedback. Some leading questions may be: "What have families tried; how did it go; How else can I support your child during this time?"

A calendar of at home learning activities has been created to send to families. Through the talking points, it will be made clear to families that these are suggested activities and that families can participate at their own level. These are not "homework" but easy to do activities with resources families already have or with what teachers supply. This calendar should be printed and supplied to families. The calendar includes SEL strategies and resources to support children and family members that need self-regulation support during routine.

The calendar includes weekly "I Love You" rituals for families to participate in. Books were sent home from Conscious Discipline detailing how to deal with the SEL aspect of the COVID-19 pandemic. Social Stories were sent electronically to families via teachers. These books will also be printed and sent out in the second wave of handouts. Videos will also be sent home integrating academic lessons with SEL. SJCHumanservices.com was shared with families for resources. As new resources are discovered, they will be shared with teachers.

Teachers will provide at least one weekly lesson plan for children beyond the calendar of activities.

Teachers will document "observations" during live contacts (virtual/phone) or from anecdotes, pictures, or work samples shared by families as part of the ongoing assessment process in COR Advantage.

Weekly office hours will be established by each teaching team for parents to call or to access live online.

Complete a final parent-teacher conference virtually, including information, activities, and resources that support the child's transition to kindergarten

A link of digital resources should be emailed to each family after the phone conversation as needed.

Teachers will include food resources for families that express food needs. This includes signing up for the ISD food distribution runs that happen weekly and providing information on other food opportunities such as information from the Human Services Commission and United Way Fresh Food Initiatives.

Teachers will make families aware of additional resources for support available on the ISD website and the Great Start Collaborative Facebook page, including food resources, social emotional supports, and developmentally appropriate activities.

Support for teachers is provided regularly through contact with the GSRP Program Coordinator and as needed with the Director of Early Childhood Services.